The "Enigma Relay" Conference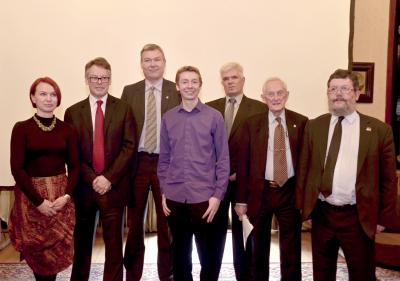 Olga Topol, Sir Dermot Turing, David Kenyon, James Grimes, John Gallehawk, Tony Comer
The 'Enigma Relay' Conference took place at the Polish Embassy on 15th October 2016.
The Conference, opened by the Polish Ambassador Arkady Rzegocki, crowned the Institute's educational project. Through our
project we aimed to show to the public how through multinational cooperation, an allegiance of great minds – Polish, French and British – lead to one of the most important victories in recent history, a victory over nazi aggression through an intellectual effort.
GCHQ's historian Tony Comer, John Gallehawk and David Kenyon of Bletchley Park, James Grimes from The Enigma Project, a Polish
cryptologist Marek Grajek as well as Sir Dermot Turing, a researcher and nephew of Alan Turnig all gave presentations at the conference.
All speakers stressed the contribution of Polish mathematicians in the race to break the code of Nazi Germany's Enigma machine.
Anna Zygalska-Cannon and Jeremy Russell, relatives of Henryk Zygalski, participated in the event.
The conference was covered by Polish media and BBC.
2016-10-26