The Book Collection of the IJP London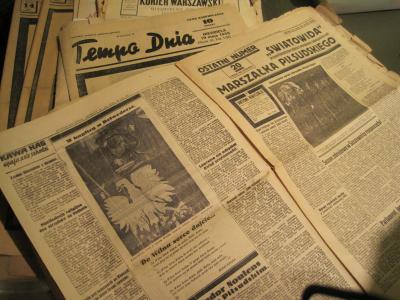 Press cuttings from the pre-war period in the Institute's collections
The Institute's library contains 6,000 books, brochures and publications.


It's collection has increased in line with the academic work and historical research conducted at the Institute. It undoubtedly compliments the research opportunities provided by the archives and museum.

The library is split into an archive section housing publication pre-1939 and a general section. It contains a rich array of literature on Polish history spanning back to 1863. The library houses a collection of works by Joseph Pilsudski, the complete pre-war publication of Collected Works
A large and important part of the library is the collection of Polish and international literature relating to Joseph Pilsudski, including English biography written by R. Landau; Pilsudski the Hero of Poland (1930), the French Le Maréchal Pilsudski 1867-1919 written by A. Muhlstein (1939), and Italian O. Colautti Nowa's Giuseppe Pilsudski (1928). There is also a smaller section of the library which contains some very unique publications which have no direct link to the academic focus of the rest of the collection and includes a Holy Bible published in Berlin in 1864.


Cataloging and Access

The majority of the books and brochures have been gifted to the Institute, a large quantity came after the closure of the Cadet's Union. Donations from individuals and organisations are the main source of acquisitions. Only a small number of specific books have been purchased directly by the Institute. Almost all of the publications in our library have a direct topical link with the work of the Institute.

The collection is housed in a separate, closed area with modern compact shelving. Due to severe restrictions on space, the library collection is subject to a detailed screening and selection process. Any copies that come into our possession are passed onto the Polish Library in POSK and the remainder are sold at book sales organised by Polish cultural institutions.

We are working on merging our database with that of the Polish Library in POSK to provide a more seamless service to researchers and academics. To date, we have uploaded details of 1,500 books in our collection to this database. During this computerisation process we are also undertaking a full reorganization of the library and further screening of our collection.

All items in the library can be made available to researchers during the opening hours of the Institute. Unfortunately, we are unable to loan anything from our library collection.